"Reflecting Nature: Reflecting Spirit"
by John Vaillant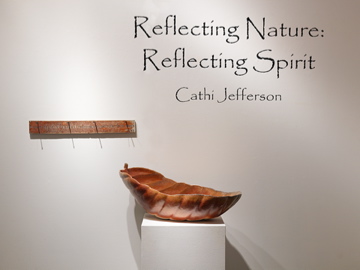 Passing through the grand portal of hollow clay blocks that marks the entrance to Cathi Jefferson's multi-media installation, "Reflecting Nature: Reflecting Spirit", one has the sensation of entering a sanctuary.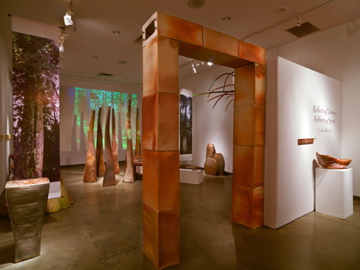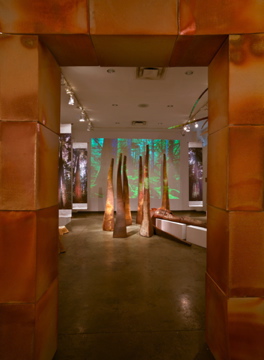 Once "inside", you find yourself in a forest of massive tree trunks, eight feet high.  Walking among them and stroking their dark, nubbled trunks, it's easy to forget that these huge objects were all built by hand, and then – somehow – fired in a kiln.  Surrounding these central columns, which also evoke the ruins of a temple are more intimate forest "scenes" that run the gamut from macro to micro and from abstract to literal.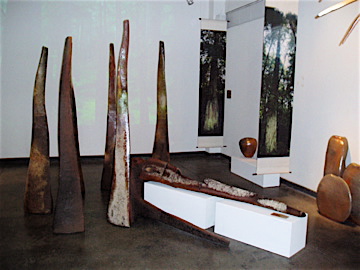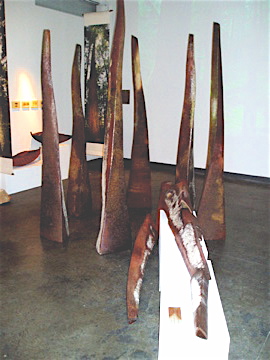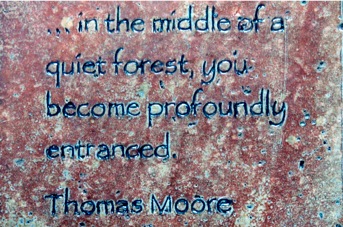 On a plinth is a giant, boat-shaped leaf delicate enough to float and filled with hundreds of smaller leaves so detailed that you can identify their species.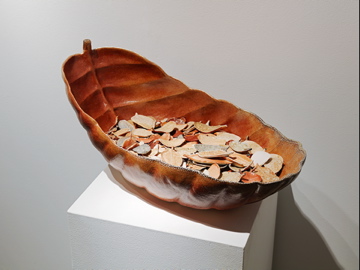 Depending on how you travel through the installation, you may then arrive at a house-shaped shrine, or a boulder with a pool of water in its recessed top that contains more stones – all made of clay.   By now the viewer understands that she is in a kind of enchanted coastal rainforest, and that this is a gift: a rare opportunity to walk "inside" the mind of a daring artist who is a master of her craft.  From out of the mud, Jefferson has rendered an environment with the soul and grace of a Japanese garden.  Call it a West Coast Canadian garden.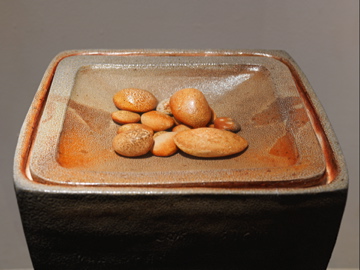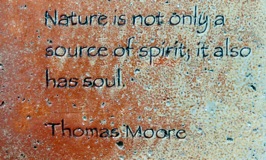 On the walls, and sometimes impressed into the work itself, are thought-provoking phrases derived from Eastern philosophy.  In a sense, these meditations take the place of the captions one would see at a more traditional show, and they offer another way into Jefferson's vision.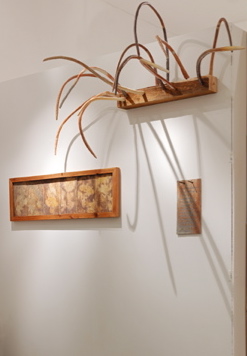 Jefferson has traveled and studied in Korea and Japan, and she has also made journeys to Machu Picchu and Angkor Wat, and we can see both the mass and the subtlety of those aesthetics demonstrated here.  On the two side walls of the gallery are small blocks of clay embossed with images of actual leaves.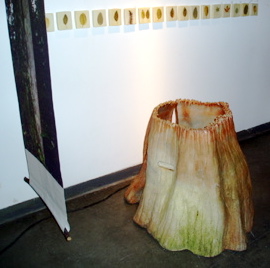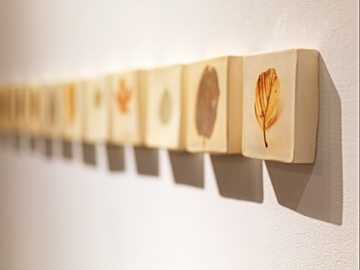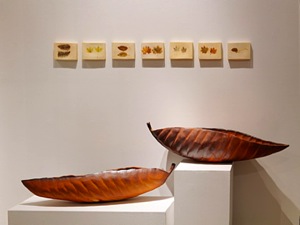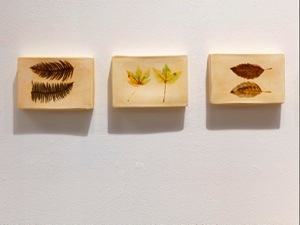 On the back wall is a floor-to-ceiling projected image of a west coast forest.  As big as it is, it doesn't overpower the literal "sculpture garden" that is our reason for being here.  Rather it reminds us of our and Jefferson's debt to the forest: all of these pieces are wood-fired.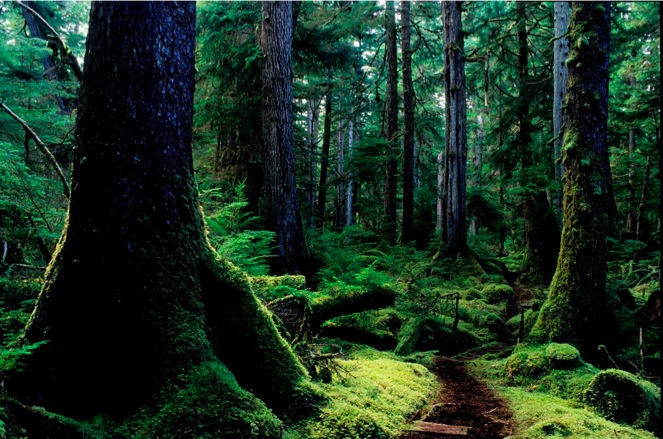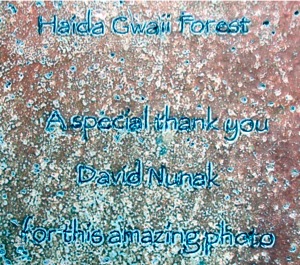 "Reflecting Nature; Reflecting Spirit" is a beautiful and inspiring departure, not just for us in the course of our hectic day, but also for Jefferson herself who has made a reputation as a maker of exquisitely crafted tableware.  With this installation, she has made a quantum leap from craft inspired by the forest to art that
is
the forest.